Further to some preliminary research into one of the archive's aircraft photos (aircraft registration G-ADDC, SPA reference SPP/1/3/183), we were contacted by Benjamin Hargreaves; his father used to fly this aircraft (and others) to Norton and Selsey in the 1930s. Benjamin gave us some more information about his father, and the family's house in Clayton Road.
'I am the son of Captain (later Major) J C Hargreaves (b. 1900) and have been researching his Pilot's log books and the related aircraft. This looks undoubtedly like his Miles Hawk Major G-ADDC which he owned from April 1935 until it was sold abroad in October 1936; Selsey is an extremely likely location, especially in 1935 when he flew there often (apparently sometimes landing on the beach), as his first family had a house there. The colour scheme and details of the plane match photos in my possession. I have spoken to my half-sister (b. 1924) about Selsey, and our father's flying visits there, and I have also done some further research in his flying log books.
The house was called Platten House on Clayton Road – "down as far as you could go then turn right" – the garden of the house ended at the beach. It was apparently a quite unusual house with two turrets. The family (my father's first family) owned it from c. 1928 to just before or after the War. On a previous occasion I think I recall her saying the house was demolished and redeveloped after their time. In the early 1930s there were apparently no breakwaters, so our father would sometimes land on the beach, then fly to Norton before the tide came in. Alternatively, he would circle the house so that his wife would know to drive over to Norton to pick him up. The house would not have been used in winter. I did not find anything useful on Google except via a Kelly's Directory entry that the house was evidently in Mrs Hargreaves's name.
My father would have been Capt. J. C. Hargreaves until c. 1935, and thereafter Major J. C. Hargreaves. He served in the Grenadier Guards, being commissioned into the Regiment in December 1918. Reviewing my father's log books I find the number of flights to Norton/Selsey to have been roughly as follows by year (I have ignored flights to and from Norton or Selsey):

1930 Norton 13 Selsey 0
1931 Norton 12 Selsey 3
1932 Norton 11 Selsey 1
1933 Norton 18 Selsey 6
1934 Norton 17 Selsey 0
1935 Norton 0 Selsey 20
1936 Nil for both (much of the year in Egypt with his regiment)
1937 Norton 0 Selsey 5
I am not sure why Norton no longer featured from 1935, whether this was a private airfield that was taken over by the RAF before the War, or that he just standardised on writing Selsey on all occasions.'
[Editor's note: the field used by private aircraft was requisitioned by the Air Ministry in 1942 for use as an Advanced Landing Ground (ALG). This was one of many ALGs on the south coast where fighter aircraft were based, providing air support for a future Allied invasion of northern France.]
'Usually, he had flown there from Heston, where the planes were primarily kept, occasionally from Brooklands (time taken seems to have been 45 mins – 1 hour), but occasionally he will have flown from elsewhere, e.g., Pirbright or Reading. Also, some of the flights into or out of Norton/Selsey were very local: Bembridge, Warsash, Farnborough. For the benefit of aviation enthusiasts, the aircraft in question were all low winged two-seater monoplanes:'
Dates, Aircraft Type & Registration
February 1930 – October 1931
Klemm Kl-25A-1 G-AAUP

October 1931 – April 1935
Klemm L26-AX G-ABRP

April 1935 – October 1936
Miles M.2H Hawk Major G-ADDC

November 1936 – June 1937
B. A. Eagle II G-ADJO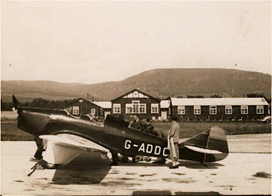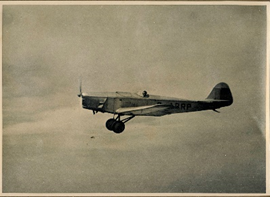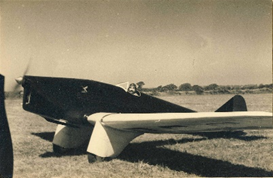 Platten House
Additional information about Platten House received from Lesley Bromley, Chair of the MWHG…
'I have a number of pictures of Platten House, because my family stayed there on holidays for about 10 years! At the time we stayed there it was owned by a lady called Miss Anderson, who was ancient (at least to me and my younger brother!) probably in her 60s or 70s! She lived in a flat over the garage and the house was divided into 4 flats around the central large hall. Miss Anderson had a lot of cats and as far as I know she owned the house. At some time in the mid-sixties, she went into a home. The house was in a state of poor repair and was pulled down and Clayton Court was built in its place. It was a most striking house, with turrets facing out to sea and a lovely sheltered sunken garden. It was a fabulous place for us as children because the sea came right up to the sea wall, and you could climb down a ladder straight into the sea at high tide!
Platten House was an interesting building, which must have been very grand when it was first built. From Clayton Road, it looked like a large cottage style house, but from the sea it looked like a castle!
The front door opened into a wood panelled short hallway which opened into a great big hall which was the height of the building, a very imposing space. There had been a large fireplace on the northern wall of the Hall which had been blocked off by the time I knew the house. French windows on the south wall opened onto the paved area in front of the sunken garden. There was a sweeping wooden staircase that led up to a gallery landing along the upper level of the South wall with windows looking out to the garden and the sea. The rooms in the turrets were a good size and formed the living rooms of the four holiday let flats. The gallery was included in the western upper flat, making it very spacious, the eastern upper flat had a door onto the corridor which led to the bedrooms. The downstairs flats were less self-contained, and the turret rooms were accessed via the hall space from the bedrooms. The Great Hall and the corridors were all lined with wooden panels, giving it, if not the feeling of a Castle, at least that of a great country house.
I worked with an eye surgeon in London in the 80's now sadly dead, who had holidayed there in the war, and he told me a Spitfire landed in the garden one day, no pictures though!'
Editor's note: A quick internet search led me to http://www.the-battle-of-britain.co.uk where I found the following entry…maybe this is the incident that Lesley refers to?
'Pilot Officer TS Wade of No 92 Squadron crash landed a Spitfire I (R6703) near Selsey after being hit by the return fire of a Junkers Ju 88 over the Solent on the 19th of August 1940. His Spitfire exploded after he had got clear, he escaped injury.'
Thanks to both Benjamin and Lesley for their contributions.
Blog edited by David Wyatt, SPA volunteer, March 2022