Tom Creedy, and his wife Joan, moved from South London to Selsey in 1984, having been introduced to the village by friends who had a seaside home here.
Early in 1987 Tom attended a series of talks about 'Old Selsey' given by Peter Ogden, a local historian. When they finished Tom asked, 'is that it?' After some discussion the small group decided to set up a history society. The first meeting attracted more than 100 people and so the Selsey Society was formed in May 1987.
Tom was a leading figure in the Society and produced a number of popular exhibitions and organised several of the Society's Christmas activities, linked to Selsey's past. He got to know many local people and over a period of about 10 years copied countless photos and postcards relating to Selsey and its inhabitants and also photographed various events. He was particularly interested in the development of seaside bungalows from railway carriages at East Beach and took many photos of them, both inside and out.
In 2005 Tom stood down from the Selsey Society committee to spend more time researching and writing history articles for Selsey Life, producing more than 50 during the next five years. Although he never considered himself well educated, he had an engaging way with words.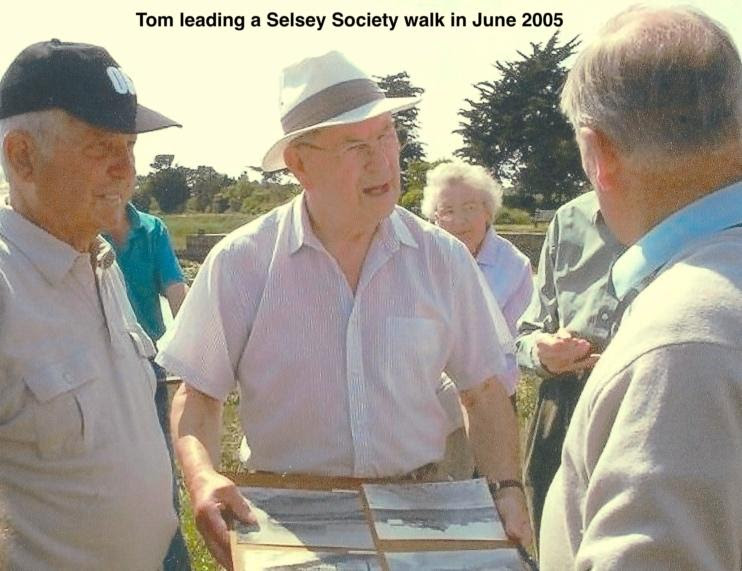 Tom was delighted to have his final article 'D-Day Remembered' published in the June 2015 edition of Selsey Life. He died later the same year, aged 90. At this time many of the Selsey Society committee members were now in their 70s and 80s and unable to continue, so the Selsey Society folded and the archives were taken over by the Manhood Wildlife and Heritage Group.