The International Red Cross was established in Geneva in 1863; the British Red Cross was formed in 1870. The Red Cross provides worldwide humanitarian support wherever there is a crisis.
Selsey volunteers with the British Farmers Red Cross Fund raised money during the First World War with agricultural sales. These events were typically held in the Pavilion when it was being used as a cinema. The proceeds from these events were used for various schemes, e.g., providing ambulances for the war effort. County branches of the Red Cross also had their own groups of volunteers called Voluntary Aid Detachments (VAD). The VADs had a variety of duties including nursing, transport and auxiliary hospitals. (See also the archive's WW1 photo taken at Graylingwell.)
During the Second World War, funds were raised again for the war effort, including sending supplies to prisoners of war. During air-raids, the Red Cross volunteers would assist the Air Raid Wardens and Auxiliary Fire Service. Various volunteer groups, including Selsey's Red Cross, helped prepare Broadreed's Holiday Camp that was used to house evacuees from London.
Following the war, Selsey's fund raising activities continued, for example with jumble sales. at the Red Cross building in Lewis Road, Selsey.
References and further reading
British Newspaper Archives
Clifford J.M. Fidler; Selsey at War 1939-1945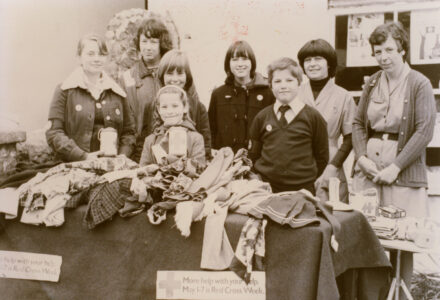 Group at a Red Cross jumble sale, May 1-7 Red Cross Week
View image