In the 1870s the Selsey Regatta was held each year in August, which included a race in which the Selsey fishermen raced their sailing boats along east beach for a prize. This tradition continued up to the end of the second world war when it became rather intermittent. In 1979 it was introduced as the Crabbers race, part of a Crabbers Day celebration of our local fishing fleet, when the now motorised fishing boats raced against each other with a complex system of handicapping to ensure fair play. There was a shield for the fastest boat and a prize for the best decorated boat. By 1994 the boats were having difficulty getting insurance for these races and the Crabbers Day with its race came to an end. Fundraising on Crabbers Day had been in aid of the Lifeboat, but it was not an RNLI organised event. In 1980 the proceeds from Crabbers Day had purchased the first inshore lifeboat 'Sealion'
In 1996 the new fundraising committee for the RNLI Selsey lifeboat started Lifeboat Day, also held in August. This grew into lifeboat week, when a number of activities were held, Starting with the Lifeboat Service held on the Lifeboat Green on the first Sunday of the week, tug of war competitions between the crew and various local organisations during the week and finishing with the grand finale on the following Sunday with the launching of the lifeboat, a visit from the coastguard helicopter and a race of home made rafts, which has come to replace the Crabbers race element.
Lifeboat week did not take place in 2020 and 2021 due to the Covid 19 pandemic.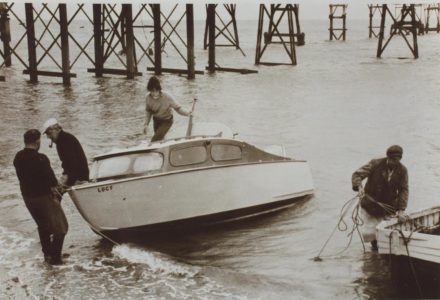 Selsey: Crabber's day boat coming ashore
View image